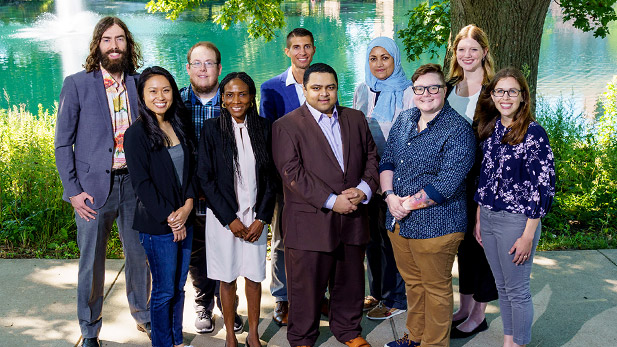 A new faculty brings its expertise and passion for teaching
Eleven new faculty members are lending their professional and academic expertise with a passion for teaching to faculty in a variety of academic departments for the 2022-23 academic year. In addition, four current faculty members moved from guest appointments to tenure-track appointments.
These 15 faculty members have won numerous teaching honors, contributed to the development of innovative technologies, and been distinguished researchers. Many bring global perspectives to their classes after earning degrees from institutions around the world.
Provost and Vice President for Academic Affairs Rick Stamper, PhD, also points out that these new professors are helping to bring diversity to the faculty, with six female professors on the slate. He also pointed out that two Rose-Hulman alumni have returned to campus for teaching roles.
"We are thrilled to welcome new educators to our faculty who have technical expertise and academic accomplishments in so many areas who will become assets to their academic departments and the broader campus community. But more importantly, they all have a passion for teaching and a commitment to helping our students learn new areas of science, technology, engineering and math to achieve their career goals," said said Stamper. "I'm sure these new professors will take their place alongside our highly esteemed and respected faculty – one of the endearing qualities of our nationally recognized institution."
The new teachers, in alphabetical order, are:
| | |
| --- | --- |
| | Rachel Atherton, PhD, Assistant Professor of English in the Department of Humanities, Social Sciences, and the Arts, taught technical, multimedia, and business writing, as well as first-year composition at Purdue University. She earned a Ph.D. and MA in English, specializing in Rhetoric and Composition, from Purdue after earning a BA in English and German from Southern Illinois University. |
| | |
| --- | --- |
| | Oluwafolake Ayano, PhD, Visiting Assistant Professor in Computer Science and Software Engineering, has experience in big data analysis. She is a highly skilled information technologist familiar with all aspects of the software development lifecycle, database administration, data analytics and information technology. Ayano earned a PhD in Computer Science and Information Technology from Purdue and earned Masters and Bachelors degrees in Computer Science from the University of Ibadan and Ibadan Polytechnic in Nigeria. |
| | |
| --- | --- |
| | Mark Baker, PhD, assistant professor of physics and optical engineering, brings extensive teaching experience to the classroom after instructor and research positions at St. Francis Xavier University and the University of Western Ontario, both in California. He has won awards for teaching undergraduate courses. Baker's Ph.D., M.S., and B.S. in physics came from UWO. |
| | |
| --- | --- |
| | Tyler Billingsley, PhD, assistant professor of mathematics, had been visiting professor at St. Olaf College (Minnesota) and visiting researcher at Corteva Agriscience in Indianapolis. His research areas include the specialization of elliptical surfaces and code-based cryptography. His Ph.D. and BS in Mathematics came from Purdue University. |
| | |
| --- | --- |
| | Lydia Eldredge, PhD, assistant professor of mathematics, remains in the Rose-Hulman Mathematics Department after serving as a visiting professor on campus for the past two years. His research interests include topics such as Mahler measure, heights of algebraic numbers, computational algebra, and differential forms on hyperbolic spaces. Eldredge received bachelor's, master's, and doctorate degrees in mathematics from Florida State University. |
| | |
| --- | --- |
| | Daniel Hachemi, PhD, assistant professor of physics and optical engineering, was a lecturer at Kettering University (Michigan) and a researcher at the Toyota Research Institute of North America. He was also a researcher at the Air Force Research Laboratory and at the University of Michigan. He obtained his PhD at the International Max Planck Research School for Nanostructural Science and Technology in collaboration with the Martin Luther University of Halle-Wittenberg in Halle, Germany. |
| | |
| --- | --- |
| | Ben Jelen, PhD, assistant professor of computer science and software engineering, has taught courses in data structures and algorithms, software requirements engineering, and health technology design as a visiting professor at Rose-Hulman. His research interests focus on human-computer interaction, participatory and user-centered design, maker technology, and health systems. He earned a Ph.D. in health informatics from Indiana University, where he also earned a master's degree in computer science. |
| | |
| --- | --- |
| | Gloria Liu, a visiting lecturer in computer science and software engineering, comes after serving as a product manager at Google. She led a team of more than 30 engineers for Google's search experience for hotels and travel, creating the first entirely machine learning-based personalized ranking system at Google. Liou earned a bachelor's degree in computer science, with a major in cognitive science, from Pomona College (California). |
| | |
| --- | --- |
| | Elizabeth Melton, PhD, assistant professor of physics and optical engineering and director of the Oakley Observatory, had been an instructor of laboratory courses in the astronomical universe and elementary astronomy at Pennsylvania State University. She was previously an award-winning student who researched asteroid photometry while earning a bachelor's degree in physics and mathematics, with a minor in astronomy, from Rose-Hulman. |
| | |
| --- | --- |
| | austin nash, PhD, assistant professor of mechanical engineering, had been an assistant professor at Kettering University (Michigan), where students nominated him for an outstanding teaching award. His teaching interests include analysis of dynamic systems, control systems, dynamic modeling, thermodynamics, computer programming and mechanics of materials. Nash earned bachelor's and master's degrees in mechanical engineering at Rose-Hulman before receiving a doctorate at Purdue. |
| | |
| --- | --- |
| | McCabe Olsen, PhD, assistant professor of mathematics, was a visiting professor at Rose-Hulman after teaching at Ohio State. He was also a Summer Institute Fellow for East Asia and the Pacific at Osaka University in Japan. Olsen's research activities have covered topics involving algebraic and geometric combinatorics, commutative combinatorial algebra, and discrete geometry. He earned a doctorate and a master's degree in mathematics from the University of Kentucky. |
| | |
| --- | --- |
| | Tanvir Pavel, PhD, an assistant professor of economics in the Department of Humanities, Social Sciences, and the Arts, has also served as a visiting professor on campus. Previously, he has taught and lectured at Florida International University, St. Thomas University (Florida), Oklahoma State University, Eastern Illinois University, and the University of Bangladesh. Pavel specializes in environmental and natural resource economics, with a focus on climate change adaptation strategies and natural hazard mitigation policies. His doctorate came from FIU. |
| | |
| --- | --- |
| | Monay Shoushan, PhD, a visiting assistant professor of electrical and computer engineering, presented at a national research conference that developed frameworks based on smartphone cameras to remotely monitor heart rate, heart rate variability, and heart rate. a person's blood pressure. A Ph.D. and M.S. were earned at Texas Tech University after completing a bachelor's degree in Electrical Engineering at Alexandria University in Egypt. |
| | |
| --- | --- |
| | Samir Talegaon, PhD, Visiting Assistant Professor of Electrical and Computer Engineering, helped develop software for Android device security during post-doctoral work at Rutgers University (New Jersey). He received a Ph.D. and a Masters in Electrical Engineering from the University of Texas at San Antonio. His bachelor's degree came from Kolhapur Institute of Technology in India. |
| | |
| --- | --- |
| | Kelsey Walters, PhD, Visiting Assistant Professor of Mathematics, has taught a variety of calculus and algebra courses at Aurora University (Illinois) and Purdue, where she earned an Excellence in Teaching Award. She received a doctorate in mathematics from Purdue after a bachelor's degree from Wheaton College (Illinois). |