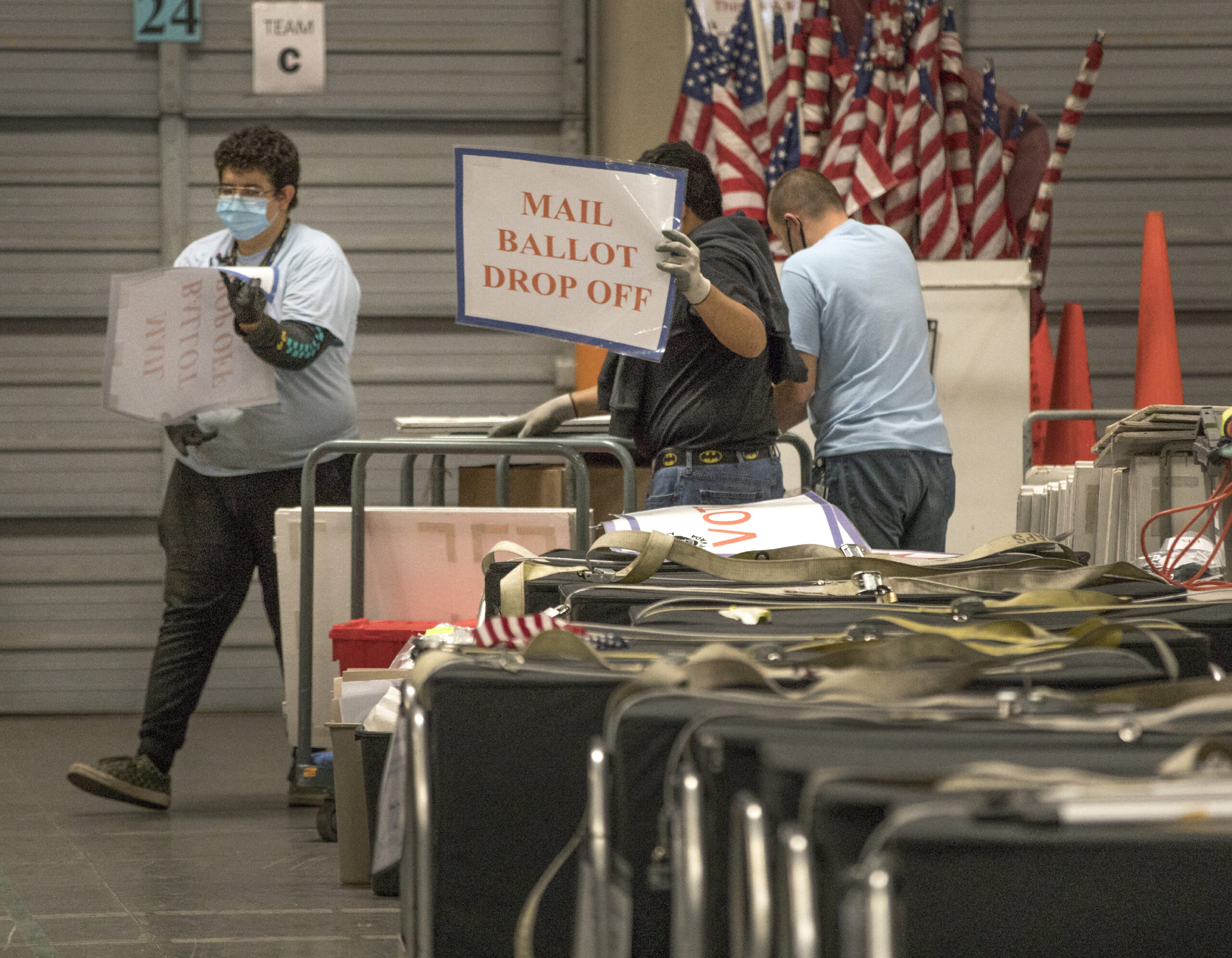 Lawmakers approve an additional $2.2 million to primarily improve mail-in elections
Nevada lawmakers approved spending an additional $2.2 million to facilitate Nevada's transition to a largely vote-by-mail state ahead of the 2022 election, pushing the total cost north of $14 million.
The funding request, passed unanimously by members of the Interim Finance Committee on Wednesday, comes from the Secretary of State's office and was described by Assistant Secretary of State for Elections Mark Wlaschin as the list of necessities for successfully implement the new mail-in voting requirements for the 2022 election.
"There were definitely some cool things we had discussed that could come further down the line, but this request, in particular, [are] the bulk for the 2022 election cycle based on contributions from all 17 counties," he told the meeting.
The additional funding is on top of the $12.2 million already allocated by lawmakers last year as part of AB321the bill implementing the transition to permanent and expanded postal voting.
Under the law, which all legislative Republicans opposed, every active registered voter will receive an absentee ballot before a primary or general election. Inactive voters, who are legally registered to vote but do not have a current address on file with election officials, will not receive an absentee ballot.
The bill allows voters to decline to receive a mail-in ballot by providing written notice to their local or county election clerk (such as through a online unsubscribe form), and the measure maintains certain minimum requirements for in-person polling stations.
According to a memorandum submitted to lawmakers, the $2.2 million requested would be split between the secretary of state's office and county poll clerks for the cost of ballot boxes, ballot tracking software, processing software signatures, ballot sorting equipment and increased pay and verification of signatures. training of poll workers.
Asked by committee chairman Sen. Chris Brooks (D-Las Vegas) why the costs weren't detailed during the legislative session, Wlaschin said it was "the best information we had at the time. and that the additional funding requests were a result of meeting with election officials from other states with similar mail-in voting systems, which gave Nevada officials a better understanding of the technology and costs needed to successfully implement the new postal voting system.
Additional documents submitted to lawmakers noted that the Secretary of State's office was able to fund the mail-in voting modifications used in the 2020 election cycle by tapping into nearly $4.5 million in federal CARES funding, which helped implement many security processes to bring about the "monumental change". in the Nevada electoral process.
"These processes, once seen as temporary measures for an emergency election cycle, should now be routine aspects of all future elections," the document says. "A cancellation or cessation of these additional processes will amount to a de facto reduction in Nevada's election security and transparency."
The biggest cost approved Wednesday is an extension of ballot sorting technology, which covers machines that sort ballots by precinct, scan and electronically capture signatures while uploading them to a database and opening mail ballots quickly.
Seven counties requested the technology: Carson City, Churchill, Douglas, Elko, Mineral, Nye and Storey counties. Clark County also requested funding for 20 "puller" units, which open envelopes and extract ballots, at a cost of $800,000, and Washoe County requested funding of $159,000 for three counters. of envelopes and three ballot counters with printing capabilities.
Wlaschin said county election officials in the 2020 election had to sort mail-in ballots by hand, and the request was based on the assumption that as more voters move to mail-in ballots, "that these requirements for precinct sorting will continue to increase, which will, again, either be more labor intensive or may be mitigated by the use of these types of machines.
In total, the new ballot sorting technology will cost $1.79 million.
The funding would also help cover a contract with BallotTrax, software that notifies voters by phone call, text or email of all stages of the ballot, including when it is received in the mail, processed and counted, or encounters signature verification. publish. The service was a free trial in 2020, but the office requested $114,000 for the 2022 election cycle to continue funding the service in the future.
It would also cover funding for a $108,000 contract with "Txt2Cure," software that notifies voters via their mobile devices if a poll clerk cannot verify their signature on a mail-in ballot.
According to a memorandum prepared by Wlaschin, many signature databases used by clerks did not have "high quality" images. In the 2020 primary and general elections, about 25,000 ballots required signature, of which 15,300 were cured, he said. About 3,000 of those ballots were cured by voters who were informed by the "Txt2Cure" software process.
The funding would also cover the purchase of fire extinguishing units to place in ballot boxes, which come in pairs and reduce the risk of ballots being burned or damaged by arson. Each pair costs $100.
The secretary of state's office also said the funding would help pay for 137 new ballot boxes (in addition to more than 1,000 already in use) based on requests from counties, due to an expected increase in the number of voters. returning ballots via the ballot box and not by post.
The total cost of the urns and additional fire suppression units is just over $242,000.
Another portion of the funding would help cover an AB321 requirement to provide forensic signature verification training for all county and city clerks and their staff. Wlaschin's memo said the office found only one person who could deliver the training, who would charge $1,800 per course but refused to create a video recounting the training.
Delivering this course to the likely hundreds of election workers could cost over $90,000, so the office instead asked for $1,800 for a member of the office to take the course and then use that information to create a training video for other election workers.