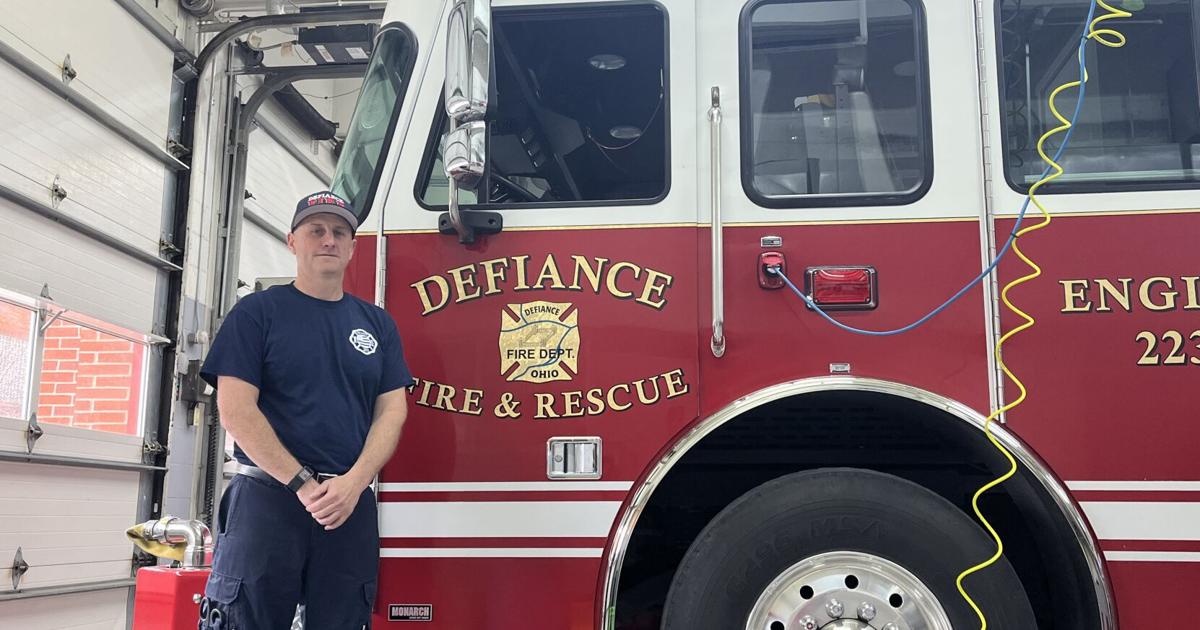 The Fireman Next Door: The Todd Liffick Story | Local News
When The Crescent News sat down with 50-year-old Tod Liffick and asked him if he had always wanted to be a firefighter, his response was a surprise.
"Not really. I never really had an aspiration to be a firefighter," he confessed.
With such a response, it's almost ironic to announce that Liffick will be retiring from the Defiance Fire Department after 21 years of service. For someone who never intended to make such a commitment, the man has spent a good portion of his life and time dedicated to the Defiance community.
Born and raised here in the Defiance County area, Liffick graduated from high school in Ayersville and from there joined the military. He had always been an active person and enjoyed vigorous physical activity. In the military, Liffick was able to retain those joys and build relationships with his peers.
After leaving the army in 1997, he tried to pursue a university education. Although he said it "didn't really go well," Liffick earned a Northwestern State associate's degree in mechanical technology. He applied this knowledge and got a job as an engineer that allowed him to work on machines.
However, Liffick explained how he lacked that sense of camaraderie that was present during those military days. Through an acquaintance, he discovered that the Defiance Fire Department was accepting new recruits.
"It felt like a good fit," Liffick said.
He liked to push the limits of his body and he liked working with people. The civil service test was open to all and no fire experience was required. So Liffick tried it. He easily passed the physical component as well as the written general knowledge test.
Before he could start his new job, he was sent to the fire academy for training. Located on the east side of Columbus, Liffick stayed in the academy dorms Monday through Friday and even some Saturdays. For six weeks, he took academy training, then went straight to basic EMT training for four more.
It was just the beginning of what has become a consummate part of Liffick's life. A typical shift for him was 24 hours. He arrived at 7 a.m. one day and did not leave until 7 a.m. the next day. However, he never claimed to feel any type of burnout.
"No two days are the same. Every day you come to work and you never know what's going to happen," he shared, "There is a variation of jobs and tasks. One moment I can be on EMS and the next I might be on a fire call…. Yes I come to the same place every day but there is diversity.
According to Liffick, firefighter training is never really finished. They must constantly train themselves in order to remain proficient at tasks, as well as learning new technologies as the world progresses and advances.
The trucks and tools he started with in 2001 are not the same as they are today in 2022. For example, he started writing his EMS reports by hand, and now everything is done via software on the 'computer.
He also earned two other associate degrees during his time in service. One he obtained in a paramedical school located in Toledo and the other in fire sciences. This expansion of knowledge allowed Liffick to take on leadership roles in his department and mentor his younger teammates.
"I'm actually going to stay part-time," he divulged, "I have all my certifications and I like the training aspect of it. I'm a fire instructor and we now have our own center training here in town. It allows us to train not only our guys, but also the local volunteer firefighters. It really improves the relationships, the skill level and keeps us competent."
From helping plan the second temporary fire station when the Clinton Street Bridge was down to visiting kids in schools on Career Day, Liffick's duty to the community Defiance goes from big to small, but remains vital in different ways.
"I liked the fact that people had someone to rely on. People sometimes call us about things that don't really have to do with firefighting. Like they had some weird problem with their furnace or plumbing issues. Sometimes we push vehicles off the road. We are going to help people who don't necessarily need to go to the hospital, but who need a helping hand. They don't have anyone else to call," he shared.
He even helps people outside of his job. Liffick is part of the local firefighters union, Defiance Firefighers Local 918. The group participates in activities such as the backpack buddy program and other community service oriented tasks. He coaches little league and is also a director of the Defiance Baseball Association.
Although he is closing this chapter of his life, Liffick confesses that he still loves the work and he has no regrets. It's just that after 21, he would like to spend more time with his family for a while.
"My kids are in high school and my son is in senior year; he's playing baseball in Defiance and he's going to play for Napoleon Legion and we're going to Alaska. I don't want to miss a lot of stuff from my son and my daughter is doing volleyball and cheerleading," he explained.
Liffick is currently completing a bachelor's degree in occupational safety.
His immediate future plans are to work part-time as a contractor and part-time with the station.
"Maybe I can work into a position where I can actually sleep every night," he laughed. "And maybe I can go back to a more traditional lifestyle. It's been like that for 21 years.